We outfit whitetail, hog and exotic hunts on several ranches throughout Texas. We also book free-range aoudad, pronghorn and mule deer hunts in far West Texas.

Most of our deer and hog hunts take place in South Texas, and we hunt exotics primarily in the scenic Hill Country.

Our ranches are selected for the quality of game and the overall hunting experience they provide.

We don't hunt any small ranches, and if a property is high fenced, it must be large enough and offer enough cover to ensure a fair chase hunting experience.
Texas Whitetail Hunts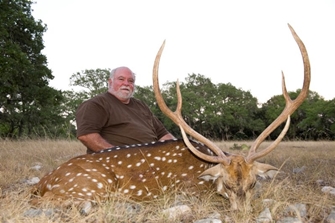 We hunt whitetails on several ranches in South Texas' famed Golden Triangle. Our South Texas ranches range in size from 1,200-10,000 acres, and all are low-fenced and well-managed for a true fair-chase hunting experience.

While the size of each ranch and the lodging provided varies, each provides comfortable accommodations, good food, and an excellent chance at taking a fantastic trophy buck.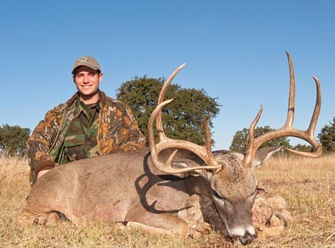 We offer both Medal and trophy hunts. Medal bucks are generally mature, heavy-horned eight-point bucks or over-the-hill nine- or ten-pointers selected by your guide.

These bucks usually range between 120-145 B&C. Trophy bucks range from 145 on up. Our biggest bucks have scored in the high 180s B&C, but the average trophy buck will score in the mid to high-150s.

Our Hill Country hunts are an excellent choice for corporate or family groups looking for a nice buck and an affordable, quality hunting experience. While we do not shoot many monsters on these hunts, we have a virtual 100% success rate on mature bucks in the 110-140 range, and we do occasionally shoot bucks over 150.
Texas Turkey, Hog, and Predator Hunts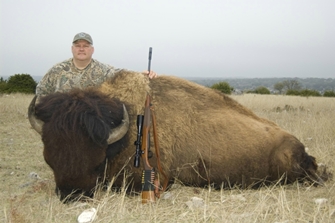 Our South Texas ranches have large populations of pigs, predators, and turkeys.

This ensures steady action and high success rates.

These hunts are very affordable, yet you'll receive the same quality food, lodging, and guide services that you would on any of our trophy whitetail hunts.
Texas Exotic Hunts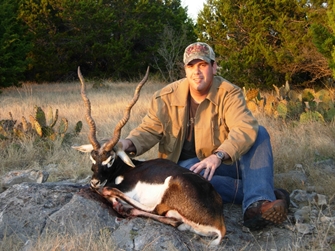 Our exotic hunts take place in the Texas Hill Country. We hunt several properties for over 30 species of game from around the world.

While our ranches are mostly high-fenced, they are large enough (most are between 1,500-3,500 acres) and rough enough to provide a quality hunting experience.

Our hunts are primarily spot-and-stalk or from a blind, depending on the hunter's physical condition and experience level.
West Texas Hunts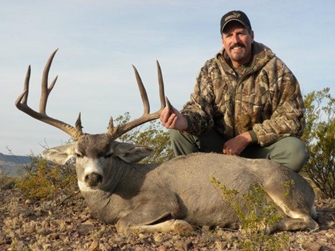 We offer pronghorn, mule deer, and free-range aoudad hunts with the best outfitter in West Texas. He has taken many Texas Big Game Award-winning bucks on his well-managed, protein-fed West Texas ranch.

The ranch also has a beautiful lodge and a healthy pronghorn herd with excellent trophy quality.

The same outfitter also hunts several hundred thousand acres of prime aoudad habitat in the Glass, Davis, and Chinyati mountains.

This is a fun, challenging hunt in beautiful country that consistently produces heavy, ancient rams over 30-inches.